The Three Ways
Country Pub and Restaurant
A truly unique Freehouse and Restaurant. Visit us at The Three Ways Pub, Cowlinge, Suffolk and expect a warm welcome and relaxed comfortable atmosphere with a roaring fire in the winter months, genuine homecooked GREAT FOOD - we're known locally as a home from home

Queen St, Cowlinge
Suffolk CB8 9QD
Tel: 01440 820355
Email us
REGULAR EVENTS
Crib - League games every Monday
"Cribbage was created by English poet Sir John Suckling in the early 17th century, about the time the pub was built"
Games are played at home or away why not come along and join us new players are always welcome
Pool - League matches every Wednesday and Thursday
"Pool a familiar game in 1600 mentioned in Shakespeare's play Anthony and Cleopatra"
Fancy a game why not come along matches are played home and away but the teams are always here before a match and as we have 3 teams you are sure to find a match in progress. At all other times the pool table is available for games which are free to all our customers.
Thursday Night - Steak Night
Steak and drink - £9.99
Friday Night - Fresh Fish & Chips
Plus a drink - £9.99
ANNUAL EVENTS
The Three Ways Summer Festival
Saturday 24th June 2017 Hog Roast, Bouncy Castle, Music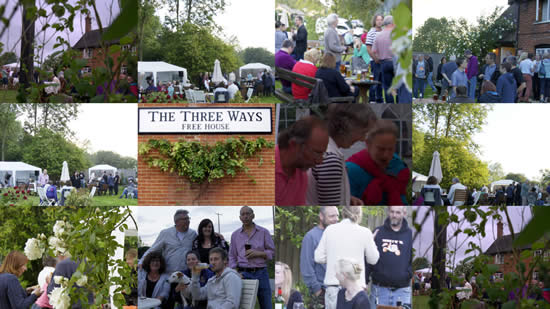 The Cowlinge Shoot Syndicate and Clay Club
During the winter months the Cowlinge Shoot Syndicate enjoys seasonal weekends of fun and sport, before relaxing by the log fires at The Three Ways with a great pint followed by a hearty Shoot dinner.

During the summer months The Cowlinge or 'Three Ways' Clay Club offers an out of season shooting experience. interested come along to the pub to find out more new members always welcome.


Theme Nights
At intervals throughout the year Sue turns her hand to tasty nights of traditional foods from around the world. Dates are advertised via facebook so 'friend' us on facebook The Three Ways Pub to receive notification of our next night
Christmas Party Night
We offer a Christmas Party Menu throughout December with a special Party Night on Friday December 15th 2017 contact us for details

see menu
New Years Eve
Music, party poppers, bubbly at midnight in the Bar
Celebration Dinner in the restaurant £28.50

see menu
Mothers Day
The best Traditional Sunday lunch a wonderful 4 course treat for Mother

Heritage Walks
We are on the Heritage Walk route a great day for all the family We also offer a great watering hole for walking parties with sumptuous lunches for the hungry.
The Hookey Run
A stop off point for the Hookey Run organised by the Dullingham Boot once a year the beer garden gives way to a plethora of bikes and people. A great family day out with a tasty barbecue at The Three Ways.
Birthday Club
Join by sending your name, email address and date of birth and receive a voucher for a free main meal on your birthday. T&Cs apply.

T&C - You must be over 18, voucher will be for one main meal, voucher must be redeemed within one month of your birthday. Not valid on Christmas Day unless your birthday actually falls on that day. Evidence required.